​​Our dedicated website for airspace was launched ​​a​s part of ​our​ major system upgrade​.​ ​We did this to provide​​​ information about how our airspace and airport operate. The site offers data and personalised information so that you can check ​things ​such as the height and frequency of ​planes ​flying overhead, and which airport they ​have flown ​from. It also includes several videos ​that ​explain how ​planes ​operate to and from London Gatwick.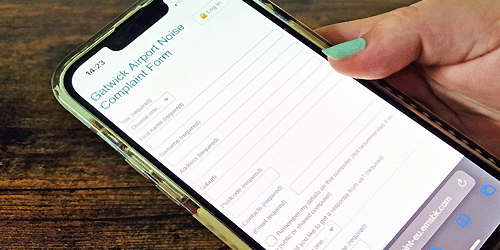 If you have any questions or ​would like ​to register a noise complaint, please contact us using one of the options below. ​Your feedback helps us all, so please do not hesitate to get in touch. We would love to hear from you.​
Our online flight tracker is a great way to make a specific report.​
​​You can also​​ ​complete​ our​ simple​ online form​.​ Call our ​​​automated phone line​ at​ 01293 311568​.​
​​​Please send any letters to the address below, and don't forget your stamp.​
Airspace Office
Gatwick Airport Ltd
7th floor, Destinations Place
Gatwick Airport
West Sussex , RH6 0NP
You can also add a shortcut app on your phone​.​
For ​iPhone​,​ tap the box with the vertical arrow and add to home​ ​screen​.​
For ​Android​,​ ​t​ap the three menu dots and select save to ​your ​home​ screen​​.​
All enquiries and complaints are dealt with by our airspace office. They provide information to the public, respond to enquiries and monitor the noise levels and track-keeping of all departing ​planes​.
The team can also offer information to prospective homebuyers about flight paths and provide data to the airport's independent Consultative Committee​.​ ​This is ​made up of local councillors, airlines, passenger​s​ and pressure groups.
We have a published policy on our procedure for how we deal with noise complaints.
Read our policy