London Gatwick is the airport for everyone
London Gatwick is the airport for everyone. We aim to be the UK's most accessible airport, prioritising the needs of every passenger and giving everyone an equal opportunity to fly.
We know airports can be challenging and stressful experiences for many people. We're passionate about creating a great experience for everyone who travels through our airport, regardless of their circumstances.
We aim to assist all passengers on their journey through London Gatwick and provide the best services for passengers needing special assistance.
You can find out more about how we work with disability groups and charities and external stakeholder groups.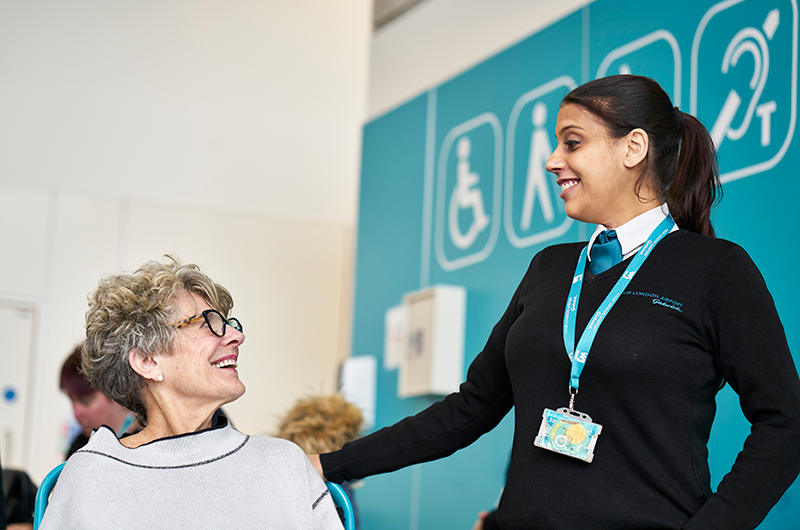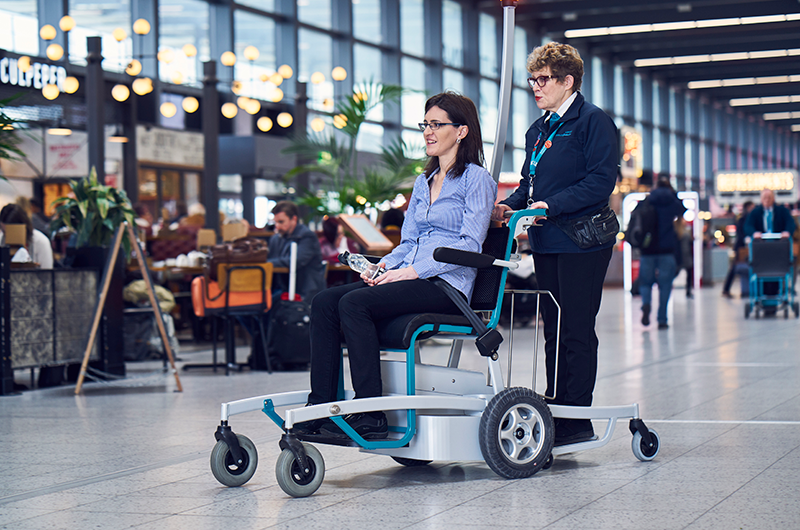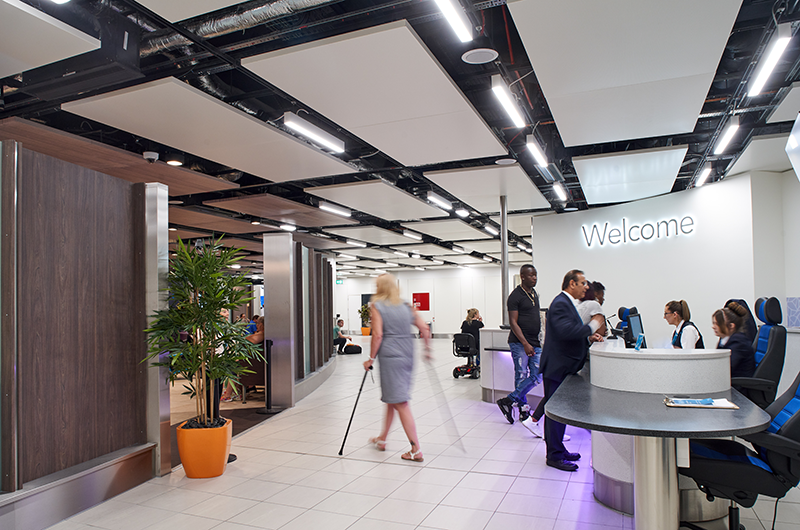 Improving our information
The below videos are aimed at helping our passengers who may want to travel independently or semi-independently through the airport. The videos show the airport journey from arrival to the gate from the perspective of Marc Powell from the RNIB, who is partially sighted, and Sophie Bradbury-Cox who uses her own powered wheelchair.
Around 11% of the UK population has a hidden disability. It is thought that around 7% of people in the UK avoid air travel because of a hidden disability.
We were the first airport in the UK to introduce a hidden disability lanyard alongside OCS, our previous special assistance provider. This was designed to increase our support for passengers with autism, dementia, and other hidden disabilities.
The lanyard provides our team with a discreet signal that passengers, their families or carers may need extra help when travelling. Lanyards are voluntary and can be collected free of charge from any of our assistance desks. We estimate that over 100,000 lanyards have been requested since we launched the scheme.
Following our lead, the lanyard has been adopted by all other UK airports and large national retailers such as Tesco, Sainsburys and M&S. We continue to share knowledge and insights with other airports as the lanyard scheme grows, to help improve passenger journeys.
Collaborative working and consultation
London Gatwick aims to be the most accessible airport in the UK. To achieve this goal, we engage with a range of disability groups and charities, including:
We want to ensure passengers living with dementia have a positive experience during all stages of their journey. We worked with the Alzheimer's Society to roll out a London Gatwick-specific Dementia Friends awareness package. Over 2,000 colleagues have become Dementia Friends and we'll continue to deliver this to our airport partners.
National Autistic Society
We're recognised by the National Autistic Society as a leader in innovative solutions for passengers. This is in recognition of introducing the hidden disability lanyard and our facilities such as our sensory room. We work with the charity and consult with them to make sure we're providing the right assistance. We're proud to be an Autism Friendly Airport.
Guide Dogs for the Blind: We offer valuable airport experience for trainee puppies and host familiarisation visits several times a year.
Crohn's & Colitis UK: We developed improved toilet signage to recognise hidden disabilities like these.
Colostomy UK: Over 1700 Airport Security Officers have been trained in stoma awareness to improve the passenger experience during the security process.
West Sussex ADHD: We work with this local charity to support the needs of passengers or their family members travelling with ADHD.
Action for Deafness: Over 150 of our colleagues are trained to understand the challenges of travelling with a hearing impairment. Sessions are delivered several times a year to help our frontline team members to support passengers with a hearing impairment.
Independent accessibility Panel (IGAP)
IGAP is made up of experts in the travel needs of disabled passengers and people with reduced mobility. The panel meets quarterly. It helps shape our accessibility strategy and improve services for disabled passengers. It takes a broad view of accessibility provision and services at the airport, including setting new service standards and reviewing our performance against them. In June 2023, we welcomed three new members: Robert Morgan, Libby Herbert, and Sophie Grand.
Ann Frye (Chair)
Ann is an international specialist in meeting the transport needs of disabled and older people. She advises public, commercial and professional bodies on policy solutions to meet mobility needs across all transport modes and the pedestrian environment.
She is currently:
A member of easyJet's Special Assistance Advisory Group (ESAAG)
An advisor to Gatwick on training and other PRM issues
A lecturer on passenger rights in aviation at the European Law Academy (ERA)
A Fellow of the Chartered Institute of Logistics and Transport (FCILT)
A Fellow of the Institution of Highways and Transportation (FCIHT)
An honorary Transport Planning Professional (TPP)
Ann has developed and delivered training to transport professionals including airports, airline cabin crew and pilots, call centre staff dealing with PRM bookings, and European National Enforcement Bodies.
Ann has worked in this field for over 30 years. In her previous roles, she:
Headed the Mobility & Inclusion Unit in the UK Government Department for Transport. Here, she worked to deliver a major programme of research, legislation and policy to promote the mobility of disabled and older people in all public transport modes.
Chaired the European Civil Aviation Conference (ECAC) sub-group on PRMs from 1996 to 2011 and led their work on the development of best practices (ECAC Doc 30). This gives statutory guidance on Regulation 1107/2006 on the rights of disabled air travellers.
Was a member of the CAA Consumer Panel from 2012 to 2018.
She continues to work closely with the European Commission and the European Disability Forum on issues in aviation.
Ross Hovey
Ross has spinal muscular atrophy. This has confined him to an electric wheelchair since he was 16.
He has been an avid traveller all his life. Working full-time since graduating from university, Ross has continued to travel the world using his disposable income to visit warmer climates.
Ross travels with carers, his permobile wheelchair, mobile hoist and other equipment. He has worked with Virgin on improving their disability knowledge following constructive feedback after a bad flight.
Ross is knowledgeable about access and disability working for the Lloyds Banking Group as their accessibility manager. He is also a co-chair of an inter-financial accessibility and disability network.
Sue Sharp
Sue is Deputy CEO of the Royal Society for Blind Children (RSBC), a national charity supporting visually impaired children, young people and their families.
Before joining the third sector in 2006, Sue worked in the field of transport and disability both domestically and internationally for almost 20 years as a lead member of the Department for Transport's disability policy team.
Sue is currently a member of the Government's statutory advisory body, the Disabled Persons Transport Advisory Committee (DPTAC).
Sue is not visually impaired. She is accompanied on the panel by a young visually impaired person as a training and mentoring exercise, to get their direct feedback on air travel.
Kamran Mallick
Kamran has worked in the voluntary sector for over 20 years and for the last 15 years running user-led organisations. He worked for Aspire and Action on Disability, the latter as CEO. Here, Kamran transformed its youth service and built up a programme of supported internships for young people with learning difficulties.
Since 2017, he has been CEO of Disability Rights UK. He has served on various boards of third-sector organisations and was a member of Transport for London's Independent Disability Advisory Group for three years.
Kamran contracted polio as a child and is a wheelchair user. His experiences at both special and mainstream schools showed him that inclusive education for all children is essential. He is driven to make sure younger disabled people have better opportunities than he did.
Kamran was listed in the Shaw Trusts 2018 Power 100 list of Britain's most influential disabled people. He was the runner-up in the Vodafone Diversity Campaigner award 2017. He won the Celebrating Diversity award from the London Borough of Hammersmith & Fulham in their inaugural Civic Honour awards in 2017.
Geraldine Lundy
Geraldine has worked for over 20 years in the aviation industry. In recent years she has influenced Virgin Atlantic to introduce accessible IFE and ensure their customer-facing staff assist passengers with hidden disabilities. Her passion for this has led her to be recognised as a global expert in this area.
Geraldine is committed to working with others in the industry to improve processes, procedures, equipment and training so that air travel becomes as accessible for as many people as possible.
Neil Betteridge
Neil's onset of arthritis at the age of three had a serious impact on his childhood. He has focused most of his career on representing the interests of disabled people and people with long-term conditions in the UK and Europe. In 2011 he set up Neil Betteridge Associates (UK), offering service user insight and perspective into international initiatives.
For six years he served as Chair of the Disabled Persons Transport Advisory Committee (DPTAC), the official advisory body to the UK Department for Transport. In this role, he addressed access and other disability issues in aviation, rail, road transport and personal mobility.
Neil is a long-standing member of the Executive Committee of EULAR, the European rheumatology society. He acts as their Liaison Officer for Public Affairs and has twice been its Vice President, representing the European patient group network.
He also:
Sits on the International Co-ordinating Council of the Global Alliance for Musculoskeletal Health
Acts as adviser to the European Alliance for Patient Access (EAfPA), which organises policy discussions on issues around access to treatments
Co-Chairs the UK Chronic Pain Policy Coalition
Formerly he was:
Patient Adviser to NHS England on Specialised Pain Services
CEO of Arthritis Care
Chair of ARMA, the UK umbrella body for rheumatic diseases
Strategic Adviser to the British Society for Rheumatology
Patient Adviser at the Royal College of Physicians
A UK ministerial adviser on both health and disability issues
Daniel Cadey
For over five years, Daniel has worked with businesses to support their strategies around disability, inclusion and accessibility.
At the National Autistic Society, Daniel led the Autism Friendly Team and developed the Autism Friendly Award scheme. He has worked with Award holders ranging from government offices to high street brands, airports to sports and leisure centres, to improve the experience of autistic employees, visitors and families.
In his current role as Senior Business Partner for the Business Disability Forum, Daniel uses his expertise to help partner organisations in their journeys to become disability smart. He also supports the Business Disability Forum's Global Taskforce with global and national disability strategy.
Sophia Warner
Sophia is a retired Paralympic track athlete having competed for GB from 1998 – 2014 in the 100m and the 200m. In 2016, she set up the Superhero Series, the UK's first and only fully accessible sports series for people with disabilities and their friends and families. These events have seen over 10,000 disabled people take part in sports such as triathlons for the first time ever.
Using her experiences of sport and the challenges of having cerebral palsy, she has worked with several disability groups and charities to find solutions to the challenges posed by disabilities.
Sophia is currently a member of ESAAG, the easyJet accessibility advisory group. Her ambition is to make the things that she enjoys the most - travel and sport - possible to be enjoyed by anyone regardless of the challenges they face.
Minutes from IGAP meetings